_


_spiritual counseling & energy management training


Who is Victoria Post ?
Victoria Post is a licensed minister who specializes in healing through insight, inspiration and a gentle call to right action. She is a devoted student of the healing arts, a natural teacher and leader, and a steady guide to others around her. _In her work, Victoria offers sacred or spiritual perspective, validation and compassion, inspiration and practical, powerful tools for change.

Her down-to-earth and approachable manner creates an atmosphere of safety and change. Her compassion and enthusiasm invite people to participate on every level. _Victoria has been credited with bringing humanity to a newsroom, and grace and grounding to the toughest physical and spiritual challenges.

Her training includes:
Energy reading and healing, Psychic Horizons school of clairvoyant training Voice Dialogue, Lynnaea Lumbard Astrology, Mark Borax. Ongoing education includes: Naos Foundation, School of Sacred Studies Ongoing seminars in consciousness and spiritual training including Caroline Myss, Ron Wroth and Joan Borysenko.

_______________> Read endorsements from the professionals of the field. Click here.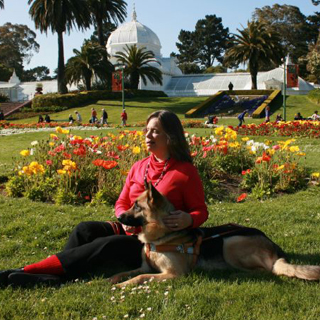 Message from Victoria Post:

I am a spiritual diplomat and an agent for change. I believe that our true freedom lies in our ability to love and make choices about our attitudes, our energy and our lives. I believe our true greatness lies in how we love and make our life choices moment by moment. I am a pioneer spirit and am always looking for new frontiers to tackle. I began by interpreting French and German, spent more than ten years as a radio news reporter, and am currently exploring the realms of human consciousness and spirituality. I have been blind since birth and have spent a lifetime overcoming and succumbing to limitations. I have struggled to know whether to embrace or transcend limitations, and I know first hand the many emotions that accompany that process. For years, I have leaned on my own stubbornness, optimism and sense of humor for strength, but it was the spiritual world that brought peace, comfort and meaning to it all. I see my purpose here as threefold: 1. To inspire people to find their own courage and resource 2. To bring more love into this world by helping people better understand themselves and each other and 3. To integrate the spiritual and the physical. Yes, I have big dreams!


Now who am I really?

I love the outdoors; hiking, cross country skiing, climbing mountains and taking long walks with my guide dog. I'm a radio news junky; I love to sing and play guitar; I'll talk for hours over tea, coffee or wine; I love being stirred to the depths of my soul by good books, movies and music; and I love dark chocolate. I am a happily married, hopelessly independent, flaming idealist who believes there is still hope for this planet.

> Visit "Touching the Sky: Shasta 2000" and see my expedition to Mt. Shasta.
[ / / / / / / ]

copyright © 2011, SpiritAlive.com All rights reserved.